Events
We run events throughout the year, you can follow us on Facebook to keep track of these.
Mailing List
Please email hinchingbrookecountrypark@huntingdonshire.gov.uk with the word "Events" in the subject line and we will add you to our database.
Hinchingbrooke Food and Drink Festival Booking Form 
Planning your own event
If you are planning an event in the park, such as a charity sponsored walk or family day, then please let us know. We can offer advice and guidance on organising your event and help ensure it is a success and is being organised safely. Please contact us with details and your preferred date.
If you would like to know approximate distances of certain routes around the park, then download the park map, which has various distances marked on it.
If you need further information please visit our page about running an event or party on HDC land or contact us.
Dog walking
Dogs are very welcome around the park but must be kept within sight and under control at all times. They must be kept on a lead within the Wildlife Area and in the cafe.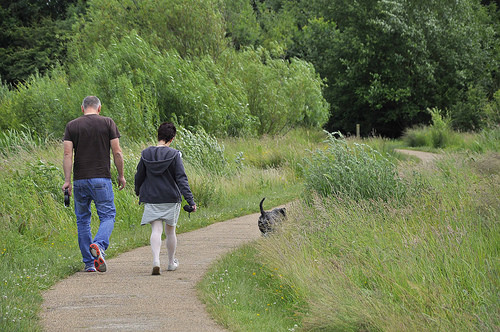 Your dog is probably friendly and won't cause any problems but many people, including young children, are frightened of them. Please respect other users, including school groups, and keep your dog on a lead if asked. Please pick up your dog's mess (or you may face a fine) and put it in the dog bins located around the park. You can get spare bags from the rangers if you forget yours.
Play area 
We have a fenced in, dog-free, play area next to the cafe with a variety of play equipment to keep all ages happy. There is a fun, wide bumpy slide, a small slide that makes up part of a climbing frame for little ones, little and big swings and a trim trail. There is also a zip wire for the more adventurous of you.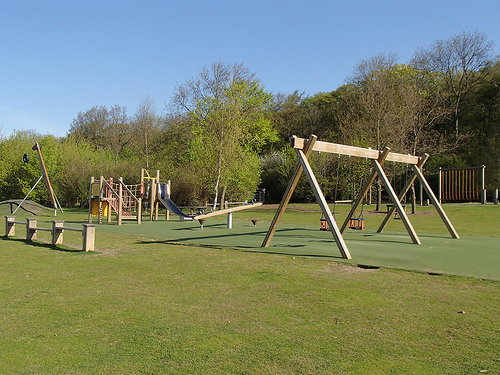 On the way from the car park to the cafe you will find a trail through the woods - you can balance, jump or climb over a variety of play logs.
Mountain biking
We have a specially designed course for mountain bikers, with mounds of various sizes. Please take care when cycling around the park and respect other users. We recommend cyclists wear the correct safety clothing and that younger children are supervised by an adult.
Fishing
Fishing is allowed at specific platforms in the main lake and Alconbury Brook. Day passes and season tickets can be obtained via the bailiff on the bank - for more information call into Brampton Post Office or download our leaflet. The main lake contains pike, carp and tench amongst others and Alconbury Brook includes pike, roach and chubb. There is no fishing during the closed season, which is 15 March to 15 June.
Our apiary
We have our own honey bees in the park, cared for by members of Huntingdonshire Beekeepers' Association (HBKA). We open the viewing gallery every day from when the weather warms up in spring to the cooler days of autumn (generally April to the end of September). During this time volunteer beekeepers from HBKA check the hives every Sunday between 2pm and 3pm. You can watch them at work from the safety of the viewing gallery, giving you the chance to go nose to nose with a whole load of bees! You also have a chance to talk to the beekeepers afterwards.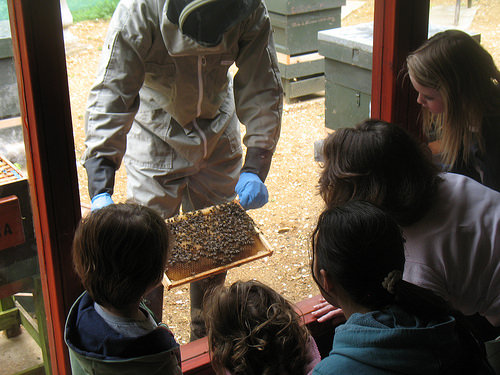 Honey from our bees is usually on sale in the cafe. The HBKA also runs courses for beekeepers who are just starting out - see their website for details.
Barbecues and picnics
There are a number of picnic benches situated around the park or just bring a rug and take your pick of the many great locations there are to choose from. If you are looking for a shady spot we have log seating areas within the woodlands.
The park has three fixed barbecue stands available for use by our visitors on a first-come, first-served basis. You may bring your own charcoal barbecue (gas barbecues are not permitted) but please do not sit it on the grass. We have some paving slabs located next to a few picnic benches that you can use. Please take your cooled disposable barbecue home with you. 
Camping
Organised groups such as Duke of Edinburgh Award, Guides and Scouts can take part in camping and related activities in our sheltered campsite. A campfire is permitted within the camp area.
Please note that camping by the public is not allowed anywhere on site.
Schools
We have a comprehensive range of activities for all ages and abilities, from pre-school age up to college students. 
Please see the Educational Visits page for more information.
Use of drones and other remote controlled equipment
Please note drones and other remote controlled machines such as aeroplanes, helicopters, cars and boats are not allowed to be used anywhere in Hinchingbrooke Country Park.
Releases
The release of Chinese lanterns, fireworks, butterflies or helium balloons is not allowed from Hinchingbrooke Country Park.