Please note that EARG is a limited fund with a deadline for applications of 31 May 2021. We will continue to process any applications currently in the system provided that they are complete and have all the required documents attached correctly. However, please be aware it can take up to 15 working days to process your application. All updates to your application will be provided via your MyHuntingdonshire account that you applied through – please check the NOTES tab within your account.
Please refer to the EARG FAQs for further information.
What is the Enhanced Additional Restrictions Grant?
Following the announcement of the roadmap out of national lockdown, the government has funded a tiered Restart Grant to help specific businesses as they return to normal trading.
Further to funding for the Restart Grant, local authorities have also been allocated funding for a discretionary offer. The Enhanced ARG is Huntingdonshire District Council's discretionary offer to business rates payers that would otherwise not be eligible for funding.
To receive funding from the scheme, eligible businesses within Huntingdonshire district must:
apply for a grant using the application form below and

submit the appropriate documents, including a letter from a certificated accountant or professional bookkeeper. It is important to ask your accountant or professional bookkeeper to include the following requirements: dated after 1 April 2021, on letter headed paper, clearly stating their qualifications.
To be eligible businesses must have experienced a significant loss of income (over 30%) directly related to, or as a result of, national lockdown restrictions.
Grant payments will be made on a first-come, first-served basis and will be dependent on a complete and validated application form and the correct submission of all other documents required. All payments will be made by 30 June 2021.
Please note that applications for this grant closed on 31 May 2021.
Who can apply for the grant?
The Enhanced Additional Restrictions Grant is open to businesses that:
operate in Huntingdonshire

have been in business and paying business rates as of 1 April 2021

have experienced a significant loss of income (over 30%) directly related to the COVID restrictions.
This scheme is only open to businesses who were not ordered to close under the current or previous COVID legislation.
Ratepaying businesses may apply for one payment per separate legal entity (eg per sole trader, partnership, or limited company) rather than per hereditament (building). The level of payment will be based upon the qualifying hereditament with the highest rateable value occupied by the business. The qualifying hereditament must be occupied, not empty, and must be in use by the business shown as the current ratepayer on the business rates database as of 1 April 2021.
This scheme is not available to charities, not-for-profit companies, community amateur sports clubs or town and parish councils.
This scheme is not open to businesses that are eligible for the Restart Grant.
Before you start your application, please make sure you have the following documents in electronic format:
A copy of your passport or driving licence showing your picture, full name and date of birth.

A recent organisation bank statement (not a bank account summary) for the account into which you want the grant payment to be made. The organisation name, account number, sort code, date and organisation transactions must be clear and legible.

A letter from a certificated accountant or professional bookkeeper, dated after 1 April 2021, on letter headed paper, clearly stating their qualifications.
Please make sure you also have the following:
your Business Rates reference number – this is on your Business Rates bill 

your Companies House number - if you are a limited company 

your Unique Tax reference number – if you are a sole trader or partnership 

your VAT number - if you are registered to pay VAT.
Important: Please read before applying
Although you may not require an accountant for your usual business purposes, this scheme requires a letter confirming that your business has suffered a 30% loss due to the pandemic. This can be from either an accountant or a registered bookkeeper and can be easily arranged, even if you do not usually use such services.
We hope you will understand that when granting public money to businesses we do have to undertake a basic level of checks and protect the public purse. Unfortunately, there are people who attempt to defraud the council out of business grants that they are not entitled to.
As such, we cannot therefore accept a letter from an applicant confirming their loss of income as enough proof to award a grant. This is why we ask for a basic letter from a professional accountant or bookkeeper, on headed paper with the writer's qualification clearly shown, as evidence that satisfies these very minimal checks.
If you fail to submit the required accountant's/bookkeeper's letter on headed paper with your application, your application will fail initial validation checks and you will need to resubmit a full application.
Please ensure that all your documents are clear and legible. If the documents you upload in your application form are not legible, we will not be able to process your application form - it will be rejected and you will need to reapply for a grant.
Before applying please refer to our COVID 19 business grant subsidy allowance page.
Further information
Further information about the Enhanced Additional Restrictions Grant can be found on the Frequently Asked Questions page.
The Enhanced ARG is a limited fund allocated on a first-come first-served basis. Once the fund has been fully allocated, applications will be closed.
How do I apply?
Applications for this grant closed on 31 May 2021.
You will need to have a My.Huntingdonshire account to access the application form and receive updates on your application - please check the Notes tab within your account. 
If you don't already have an account, you will need to register for one. 
How can I check updates to my application?
Log in to your MyHuntingdonshire account.
Once signed in, click on 'Track my requests'

Click on the 'Complete' tab and then click on the arrow for the relevant application. You can find the application reference number (which is a string of 8 capital letters) on the email that was sent to you when you submitted your application for a grant. It can also be found under the Documents tab, where you application has been uploaded.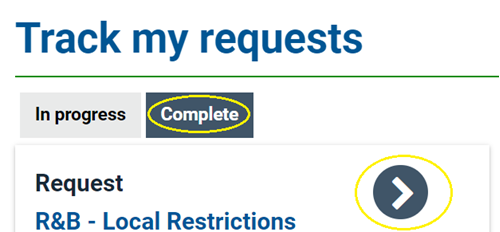 This will then open as below - click on the 'Notes' tab to view any updates.

Please note that a Note will be added here when your application has undergone its initial validation check. We will notify you here if it has passed and moved on to mandatory pre-payment and anti-fraud checks or if it has failed, stating the reasons why. 
If there are no Notes here your application is still in the queue for review by the team, which we aim to complete within 3-5 working days of submission.