What is the Additional Restrictions Grant?
This scheme is to support businesses across the district that are not eligible for the Local Restrictions Support Grant (LRSG). This grant scheme will be funded from monies allocated to Huntingdonshire District Council by the government.
Successful applicants of this scheme will each receive a one-off grant payment of £2000 to cover the current national restriction period. If you have already successfully received this grant, please do not apply again. If you are affected by Tier 2 and Tier 4 restrictions, please visit the Tier 2 and Tier 4 Grants Information page for further information.
The deadline for applications is 31 January 2021.
Are you eligible to receive a Support Grant, because your business was ordered to close by the government on 5 November 2020?
Businesses which may be eligible for an award will be those which were previously entitled to a grant under the Local Authority Discretionary Grant Fund (LADGF). They must not be registered for business rates, they must be in the business sectors listed below and must have been required to stop, significantly change or reduce their normal operations in order to comply with lockdown regulations:
bed and breakfast businesses registered with Huntingdonshire District Council's Environmental Health

charities or

organisations that normally operate within a shared workspace.
All of the above must have their organisations based within the Huntingdonshire district area.
Market traders who are regular attenders at recognised markets in the district may be eligible too.
Some examples of organisations which may be eligible are:
a market trader, where the majority of business is non-essential items, who has had to change to sell predominantly essential items 

a bed and breakfast only able to remain open to provide accommodation for business travel users

shared workspace, ie to provide click and collect.
We will be using the List A and List B (government guidance on nationally restricted businesses/organisations) to determine eligibility of shared workspace applications.
Businesses and venues which have been ordered to close – you can claim a Support Grant if your business is in this list.
Non-essential retail, such as:
clothing stores
homeware stores
vehicle showrooms (other than for rental)
betting shops
tailors
tobacco and vape shops
electronic goods and mobile phone shops
market stalls selling non-essential goods
hand car washes
adult gaming centres
auction houses (except auctions of livestock or agricultural equipment)
charities (with a Business Rates number)
If your business falls under the above category but chooses to change its method of operation and to provide takeaway, click and collect (where goods are pre-ordered and collected off the premises) or online services with delivery, it will still be counted as closed and therefore you are still eligible to apply for a Support Grant.
Hospitality venues, such as:
cafes
restaurants
pubs
bars
social clubs
However, if your business normally operates as a take away, click-and-collect, drive-through or delivery, you are not eligible for a Support Grant. This is because you are able to continue trading during the National Lockdown, and have not been ordered to close.
Accommodation such as:
hotels
hostels
guest houses
campsites
If your premises acts as someone's main residence, where they cannot return home, for homeless people, or where it is essential for someone to stay there for work purposes, you are eligible for a Support Grant. This is because you are not able to continue trading as normal during the National Lockdown, and have been ordered to close.
Leisure and sports facilities such as:
leisure centres
gyms
swimming pools
tennis and basketball courts
golf courses
fitness and dance studios
climbing walls
archery, driving, and shooting ranges
Entertainment venues such as:
theatres
concert halls
cinemas
museums
galleries
casinos
amusement arcades
bingo halls
bowling alleys
skating rinks
go-karting venues
soft play centres and areas
circuses
funfairs
zoos and other animal attractions
water parks and theme parks
conference centres
exhibition halls
Indoor attractions at botanical gardens, heritage homes and landmarks must also close, though outdoor grounds of these premises can stay open.
Personal care facilities such as:
hair, beauty, tanning and nail salons
tattoo parlours and body and skin piercing services
spas
massage parlours
Community centres and halls and libraries
Except for a limited number of exempt activities as set out below. Libraries can also remain open to provide access to IT and digital services - for example, for people who do not have it at home - and for click-and-collect.
Places of worship
Except for the purposes of independent prayer, and service broadcasting and funerals.
These businesses and places will still be permitted to be open for a small number of exempt activities, including:
education and training (including for schools to use sports and leisure facilities where that is part of their normal provision)
childcare purposes and supervised activities for children
blood donation and food banks
to provide medical treatment
for elite sports persons (in indoor and outdoor sports facilities), professional dancers and choreographers (in fitness and dance studios)
for training and rehearsal without an audience (in theatres and concert halls)
for the purposes of professional film and TV filming.
Businesses and venues which can remain open – you cannot claim a Support Grant if your business is in this list.
This includes those providing essential goods or services, including:
food shops
supermarkets
pharmacies
garden centres
hardware stores
building merchants
off-licences
petrol stations
car repair and MOT services
bicycle shops
taxi businesses
vehicle hire businesses
banks
building societies
post offices
solicitors
accountants
loan providers
money transfer businesses
funeral directors
launderettes and dry cleaners
medical and dental services
vets and pet services
agricultural supplies shops
storage and distribution facilities
car parks
public toilets
motorway service areas
outdoor playgrounds
newsagents
breweries
opticians
audiology services
chiropody
chiropractors
osteopaths
estate agents
Before you start your application, please make sure you have the following documents in electronic format:
Your passport or driving licence showing your picture, full name and date of birth. If your photocard driving licence or your entitlement to drive expires between 1 February 2020 and 31 December 2020, you have an 11-month extension from the date of expiry. We will accept your driving licence if the expiry date falls within this period.

Organisation bank statement (not a bank account summary) for the account into which you want the grant payment to be made. The bank statement must be recent, for a month ending during October or November 2020. The organisation name, account number, sort code, date and organisation transactions must be clear and legible.

If your organisation is a charity, the certificate showing your Charity Commission registration number.

If your organisation is a sole trader or partnership, a recent document or correspondence from HM Revenue & Customs showing your Unique Tax Reference (UTR) number.

If your organisation is not a limited company, sole tradership or partnership, or charity, a recent document (such as payslip or P60) or correspondence from HM Revenue & Customs showing your National Insurance number.

If your business is operating from a shared workspace, the rent/ lease agreement clearly showing the period of the agreement and the amount and frequency of rent to be paid.
Please ensure that all your documents are clear and legible. If the documents you upload in your application form do not cover the periods specified, or if any of the information contained is not legible, we will not be able to process your application form - it will be rejected and you will need to reapply for a grant.
When completing the form you will need to provide:
if you are a director, your Companies House business registration number
if you are a sole trader or partner, your Unique Tax Reference (UTR) number
if you represent a charity, your Charity Commission registration
if none of the above apply (other), your National Insurance number
if your organisation is registered for VAT, your VAT number.
If your application is approved, the grant will be paid by BACS payment into the organisation's bank account. In accordance with the government's guidance, applications to the grant fund will be subject to anti-fraud checks (including with third-party agencies) prior to payment of grants. If fraudulent claims are subsequently detected after the grant is awarded, we reserve the right to pursue reclaiming those monies.
The deadline for applications is 31 January 2021.
Further information
Further information about the Additional Restrictions Grant can be found on the Frequently Asked Questions page.
How do I apply?
You will need to have a My.Huntingdonshire account to access the application form and receive updates on your application - please check the Notes tab within your account.
If you don't already have an account you will need to register for one.
If you have already registered, please click on the button below, sign in to your account and complete the application form. 
Apply for an Additional Restrictions Grant
** Important: Please check the Notes tab in your My.Huntingdonshire account regularly as this is where you will be notified about the progress of your application. We will notify you here if your application is successful, if it is rejected (detailing the reason why) or if there are any issues with your application.
How can I check updates to my application?
Log in to your MyHuntingdonshire account.
Once signed in, click on 'Track my requests'

Click on the 'Complete' tab and then click on the arrow for the relevant application. You can find the application reference number (which is a string of 8 capital letters) on the email that was sent to you when you submitted your application for a grant. It can also be found under the Documents tab, where you application has been uploaded.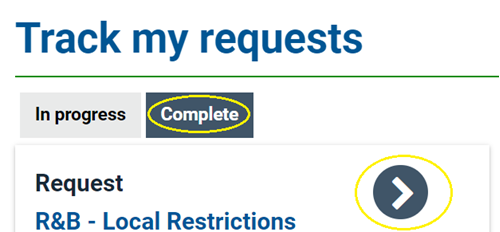 This will then open as below - click on the 'Notes' tab to view any updates.

Please note that a Note will be added here when your application has undergone its initial validation check. We will notify you here if it has passed and moved on to mandatory pre-payment and anti-fraud checks or if it has failed, stating the reasons why.
If there are no Notes here your application is still in the queue for review by the team, which we aim to complete within 3-5 working days of submission.
Please read the information below about State aid before you apply.
Confirmation of State aid received under the COVID-19 Temporary Framework for UK Authorities scheme
Following the outbreak of coronavirus, the European Commission has approved schemes to aid businesses affected by the coronavirus outbreak based on their Temporary Framework, including the COVID-19 Temporary Framework scheme for the UK.
The maximum level of aid that a company may receive is €800,000 (€120,000 per undertaking active in the fishery and aquaculture sector or €100,000 per undertaking active in the primary production of agricultural products). This is across all UK schemes under the terms of the European Commission's Temporary Framework.
The euro equivalent of the sterling aid amount is calculated using the Commission exchange rate applicable on the date the aid is offered. Any aid provided under this scheme will be relevant if you wish to apply, or have applied, for any other aid granted on the basis of the European Commission's Temporary Framework. You will need to declare this amount to any other aid awarding body who requests information from you on how much aid you have received. You must retain this letter for four years after the conclusion of the UK's transition from the EU and produce it on any request from the UK public authorities or the European Commission.
Aid may be granted to undertakings that were not in difficulty (within the meaning of Article 2(18) of the General Block Exemption Regulation3) on 31 December 2019, but that faced difficulties or entered in difficulty thereafter as a result of the COVID-19 outbreak. This undertaking in difficulty test does not apply to small and micro undertakings (fewer than 50 employees and less than €10 million of annual turnover and/or annual balance sheet) unless they were already in insolvency proceedings, have received rescue aid that has not been repaid, or are subject to a restructuring plan under State aid rules.
This aid is in addition any aid that you may have received under the de minimis Regulation allowing aid of up to €200,000 to any one organisation over a three fiscal year period (ie your current fiscal year and previous two fiscal years), and any other approved aid you have received under other State aid rules, such as aid granted under the General Block Exemption Regulation.
The de minimis Regulations 1407/2013 (as published in the Official Journal of the European Union L352 24.12.2013)
In summary
Your business can claim up to €200,000 in State aid under the de minimis scheme (over a 3-year period). You may also be able to claim up to €800,000 under the UK COVID-19 Temporary Framework.